SKU:BTF-SM-RBH-37UM-C1000
1000 in stock
Regular price
Sale price
A$218.00
Unit price
per
Sale
Out of stock
View full details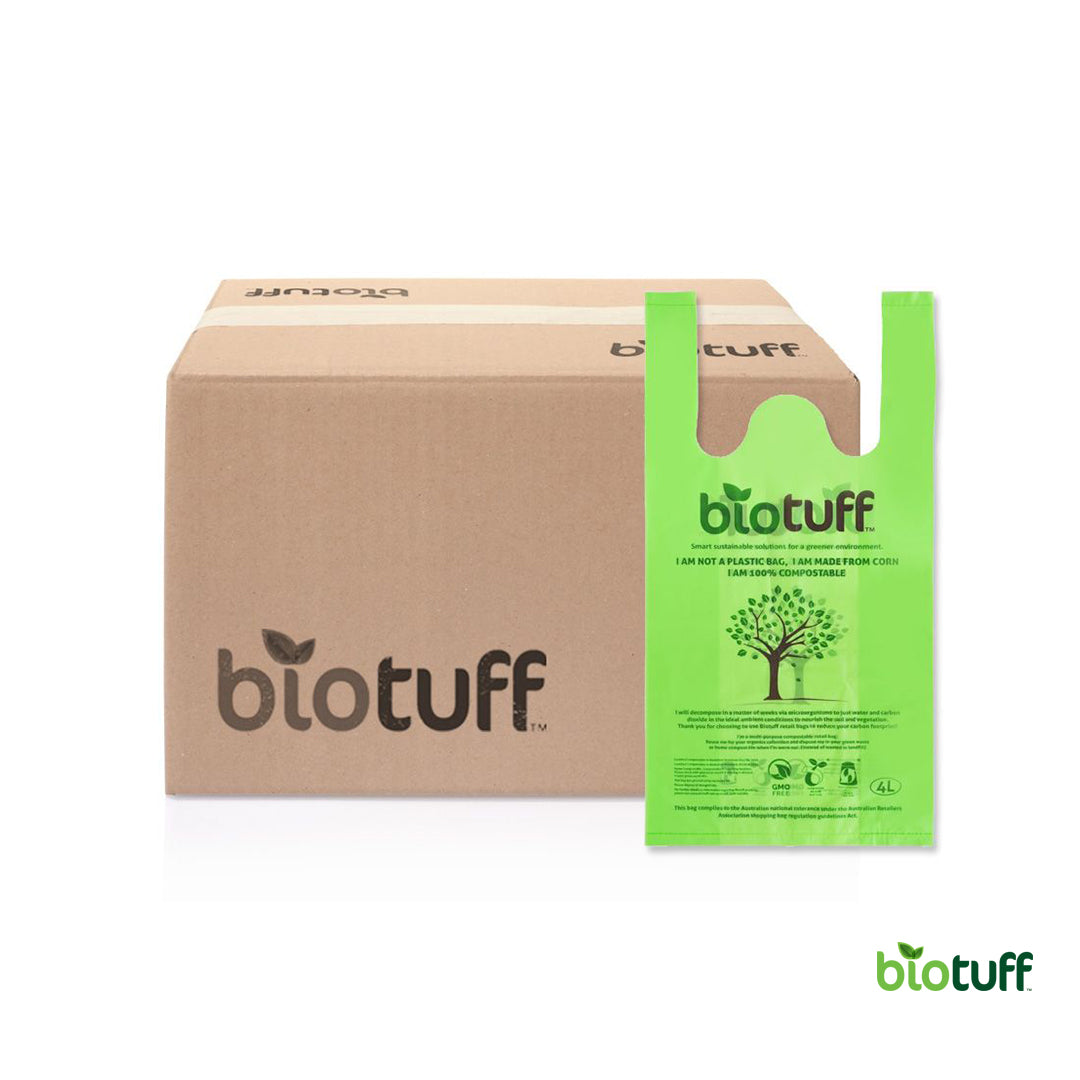 Product Details
Shipping & Delivery
Introducing the Retail Use Biodegradable and Compostable Singlet Bag: An Environmentally Friendly Alternative.
Are you in search of a sustainable choice for your retail business? Look no further than our Retail Use Biodegradable and Compostable Singlet Bag - 4L - Carton. Crafted with renewable resources and plant-based thermoplastic corn starch resins, these bags are manufactured to ensure an eco-friendly solution. With the option of a green or white base colour, you can select the bag that best suits your branding.
Designed to meet US FDA and EU food contact compliance requirements, these singlet bags are perfect for various retail outlets, including delis, bakers, butchers, and greengrocers. Each carton order includes 1000 bags, offering convenience and flexibility for your business requirements.
With dimensions of 46cm x 25cm, our singlet bags provide ample space to accommodate your customers' purchases. Their environmentally friendly composition makes them an ideal choice for those who value sustainability.
Our Retail Use Biodegradable and Compostable Singlet Bag - 4L -Carton is not only biodegradable but also certified compostable to Australian and European standards, including AS4736, AS5810, ISO16929, ISO14855, and Biodegradable Products Institute (BPI). By choosing these bags, you actively contribute to the reduction of landfill waste and carbon emissions, demonstrating your commitment to sustainable practices.
These bags are designed with exceptional strength, offering superior puncture, tear, and heat resistance. Their impact toughness and leak-proof properties make them suitable for a wide range of retail applications. With a long shelf life, they meet your storage needs effectively.
Additionally, the breathability of our singlet bags allows for excellent odour control and moisture dissipation, ensuring optimal freshness for items that require proper ventilation.
When it comes time to dispose of these bags, you can rest easy knowing they can be composted in aerobic, industrial composting facilities. This sustainable end-of-life solution further enhances its eco-friendly attributes. Our bags are GMO-free and have undergone independent verification to ensure their environmental credibility. They comply with Australian Standards AS4736 BPI and AS5810 Home compost, reinforcing their sustainability credentials.
Make a positive impact on sustainability by choosing our Retail Use Biodegradable and Compostable Singlet Bag - 4L as your environmentally friendly alternative. Embrace eco-conscious practices and showcase your commitment to a greener future. With each box containing 1000 bags, our carton size offers convenience for retail outlets and businesses alike.
Delivery fees and times vary for different products and are calculated based on the size and weight of the order and its destination. The delivery price for each order will be displayed during the checkout process, prior to payment and order confirmation, and included in the total price of your order. Changes made to the delivery address or delivery time after placing an order may incur additional charges, which we reserve the right to request to add to your original delivery charge. Delivery estimates calculated at Checkout are based on delivery to the front door of the ground floor. Approval for requests to have items delivered past this point be requested prior to an order being placed. This is a request and cannot be guaranteed. The request is based on courier availability and payment of this service.