SKU:BTF-50L-1R30B
2000 in stock
Regular price
Sale price
A$16.55
Unit price
per
Sale
Out of stock
View full details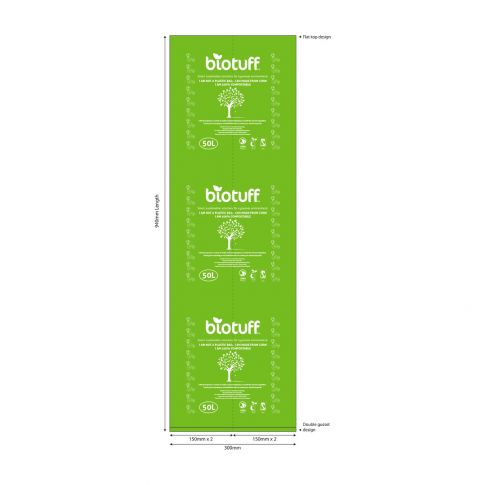 Product Details
Shipping & Delivery
Choose Sustainability with Biotuff Compostable 50L General Use Bin Liners
Take a proactive step towards a greener future by selecting Biotuff compostable 50L General Use Bin Liners. These bin liners offer an environmentally friendly solution that surpasses biodegradability and compostability. They have obtained certifications for meeting rigorous sustainability standards, including AS4736, ISO16929, ISO14855, and the Biodegradable Products Institute (BPI) certification. By choosing Biotuff, you actively contribute to decreasing landfill waste and carbon emissions, positively impacting our world.
Outstanding Qualities
Biotuff compostable 50L General Use Bin Liners shine with their exceptional attributes. They provide superior resistance to punctures, tears, and heat, ensuring durability and reliability even in challenging conditions. With remarkable impact toughness and a leak-proof design, these bin liners are built to withstand a wide range of applications. Moreover, they offer a unique soft touch, enhancing comfort during waste management.
Durable and Breathable
Experience long-lasting performance with Biotuff compostable 50L General Use Bin Liners, minimizing the need for frequent replacements. These bin liners have an extended shelf life, maintaining their functionality and integrity over an extended period. Their breathability is a valuable feature that facilitates effective control of aromas and moisture dissipation, resulting in a fresher and more pleasant environment.
Effortless Composting
One notable feature of Biotuff compostable 50L General Use Bin Liners is their effortless composting capability. They can be composted in aerobic, industrial composting facilities, contributing to the creation of nutrient-rich soil. These bin liners have undergone rigorous independent verification to meet Australian Standards AS4736, BPI, and AS5810 for home composting. Using these liners, you actively participate in composting, encouraging sustainability.
Make a Sustainable Choice
Biotuff compostable 50L General Use Bin Liners are your eco-conscious decision for a greener future. By embracing these bin liners, you make a tangible difference in preserving the environment while enjoying their exceptional quality and functionality. Join the movement towards an eco-friendly tomorrow.
Delivery fees and times vary for different products and are calculated based on the size and weight of the order and its destination. The delivery price for each order will be displayed during the checkout process, prior to payment and order confirmation, and included in the total price of your order. Changes made to the delivery address or delivery time after placing an order may incur additional charges, which we reserve the right to request to add to your original delivery charge. Delivery estimates calculated at Checkout are based on delivery to the front door of the ground floor. Approval for requests to have items delivered past this point be requested prior to an order being placed. This is a request and cannot be guaranteed. The request is based on courier availability and payment of this service.
Great bags! Definitely buy again