SKU:BTF-CKB-75UM-C200
100000 in stock
Regular price
Sale price
A$139.00
Unit price
per
Sale
Out of stock
View full details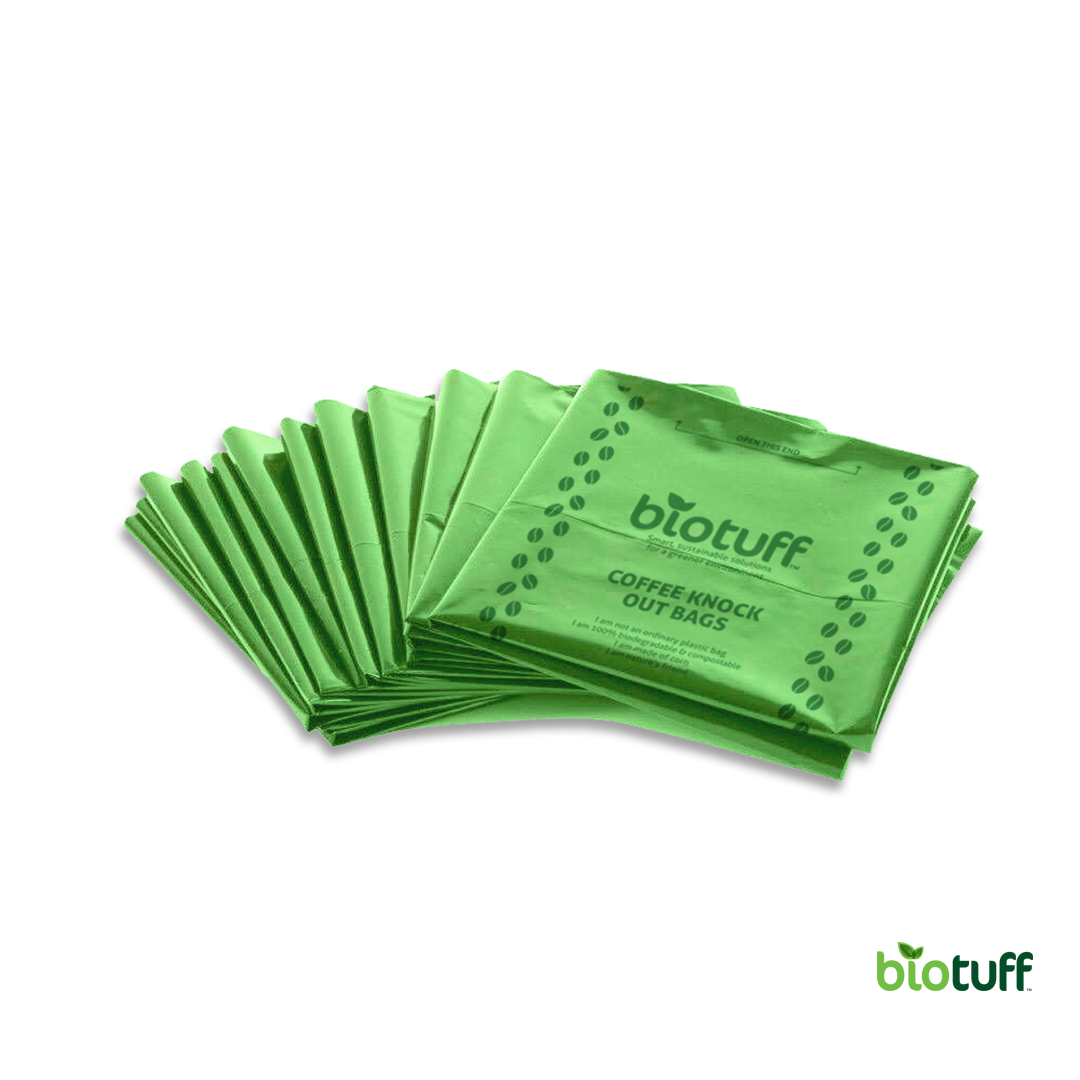 Product Details
Shipping & Delivery
The Biotuff Coffee Knock Bags - Carton is the ultimate solution for eco-conscious coffee lovers and businesses. These compostable and biodegradable bags are specifically designed to address the environmental impact of coffee waste while delivering exceptional functionality. Discover the remarkable features that make Biotuff Coffee Knock Bags - Carton the perfect choice for responsible coffee disposal. With a handy carton of 200 bags, making sustainable coffee disposable is easy and convenient.
Crafted using renewable resources and plant-based thermoplastic corn starch resins, Biotuff Coffee Knock Bags – Carton exemplifies our unwavering commitment to sustainability. Designed with convenience in mind, these heavy-duty bags effortlessly lift straight out of the tube, making coffee waste disposal a breeze without any mess or hassle.
Experience the strength and durability of Biotuff Coffee Knock Bags. With superior puncture, tear, and heat resistance, these bags are built to withstand the demands of coffee disposal. Their impact toughness and leak-proof design ensure reliable containment, preventing spills or leaks during disposal.
Elevate your coffee waste management with the premium touch of Biotuff Coffee Knock Bags - Carton. Their unique soft touch adds an element of elegance while aligning with your brand image and showcasing your commitment to sustainability.
Benefit from the long shelf life of Biotuff Coffee Knock Bags - Carton, reducing the need for frequent replacements and providing a cost-effective solution for your coffee waste disposal needs.
Experience the breathability of these bags, which sets them apart. They effectively control odours and dissipate moisture, maintaining a fresh and pleasant environment. When it's time to dispose of the bags, you can rest easy knowing they can be composted in aerobic, industrial composting facilities, contributing to a sustainable waste management system.
Rest assured, Biotuff Coffee Knock Bags – Cartons have undergone independent verification to ensure their quality and environmental performance. They fully comply with Australian Standards AS4736 and BPI, as well as AS5810 for home composting, guaranteeing their reliability and adherence to stringent industry standards.
Ideally suited for cafeteria and hospitality businesses, Biotuff Coffee Knock Bags have a carry load of up to 20kg, accommodating the disposal needs of high-volume coffee establishments.
Please note that these bags are designed for daily use and should be replaced accordingly. The waste tube is not included, allowing you the flexibility to choose the most suitable container for your coffee waste management system.
Join the movement towards responsible coffee disposal and make a sustainable choice with Biotuff Coffee Knock Bags. Experience their superior performance, sustainability, and convenience while actively contributing to a greener and more sustainable future.
Delivery fees and times vary for different products and are calculated based on the size and weight of the order and its destination. The delivery price for each order will be displayed during the checkout process, prior to payment and order confirmation, and included in the total price of your order. Changes made to the delivery address or delivery time after placing an order may incur additional charges, which we reserve the right to request to add to your original delivery charge. Delivery estimates calculated at Checkout are based on delivery to the front door of the ground floor. Approval for requests to have items delivered past this point be requested prior to an order being placed. This is a request and cannot be guaranteed. The request is based on courier availability and payment of this service.