SKU:BTF-DWB-1ECODISP
99981 in stock
Regular price
A$12.00
Sale price
A$14.80
Unit price
per
Sale
Out of stock
View full details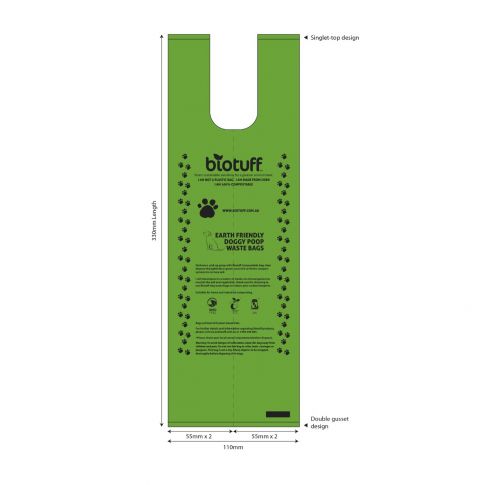 Product Details
Shipping & Delivery
Being an Eco-Conscious Dog Owner: Embracing Sustainable Practices
As a responsible dog owner, it's crucial to prioritise sustainability and eco-conscious choices. One area where you can positively impact is disposing of dog waste. By opting for GMO-free, renewable, plant-based compostable material, you can contribute to reducing global warming. The Biotuff compostable bags are certified to international standards for biodegradability and compostability, including Australian Standards AS4736 BPI and AS5810 Home compost, Europe EN13432, USA ASTM D6400, AUS AS4736, and Japan Green Pla.
Biotuff compostable dog waste bags with a handy eco pouch dispenser have gained validation from councils, retailers, and pet owners. This validation demonstrates their effectiveness and reliability in delivering sustainable waste management solutions. By choosing these dog waste bags, you can have peace of mind knowing that you're making a conscious choice toward a greener future.
In addition to their eco-friendly composition, Biotuff compostable bags offer impressive product details. They are designed to be strong and possess superior puncture and heat resistance, ensuring durability and preventing leaks or messes. The bags also exhibit impact toughness, ensuring they can withstand various conditions. Their unique soft touch makes them easy to handle and use.
What's more, these bags are certified biodegradable and compostable and have also undergone independent verification. This validation further assures their eco-friendly attributes and reinforces their contribution to sustainable waste management.
Incorporating Biotuff compostable dog waste bags and eco-pack into your dog care routine can align your actions with your commitment to being an eco-conscious dog owner. You'll be responsibly disposing of your pet's waste and contributing to a healthier planet. Choose sustainability without compromising on quality and convenience - choose Biotuff compostable bags for a greener future.
Delivery fees and times vary for different products and are calculated based on the size and weight of the order and its destination. The delivery price for each order will be displayed during the checkout process, prior to payment and order confirmation, and included in the total price of your order. Changes made to the delivery address or delivery time after placing an order may incur additional charges, which we reserve the right to request to add to your original delivery charge. Delivery estimates calculated at Checkout are based on delivery to the front door of the ground floor. Approval for requests to have items delivered past this point be requested prior to an order being placed. This is a request and cannot be guaranteed. The request is based on courier availability and payment of this service.
There is an unserviced market
Good morning,
I recently purchased the dog waste bags and we do not have any animals.
The proposed use of the bags is to capture and hold wrap and then dispose of used stoma bags.
The protocol is very similar to nappy and dog waste disposal - wrap and disposal of through waste or incineration, the appliance has a range of plastics so is not an item for the sewage or septic systems.
The usual approach is small bin bags -but in general these are way too large - holding significant volume beyond what a stoma appliance will hold so very much a waste.
The dog waste bags are about the right size, and where the market opportunity exists in creating a line that is targeted to the stoma using population. There is a certain level of discomfort in having something that is targeted to the dog poo market, but to have something that is more generically branded or even containing specific messaging would be a benefit. Using the bags, has been a very good experience, they are strong, they seal to contain all odours and they are about the right size - could be just a little wider as they do not need to be. Used as a glove and then bag - just as a bag.