SKU:BTF-DWB-REF-C40
2998 in stock
Regular price
Sale price
A$255.30
Unit price
per
Sale
Out of stock
View full details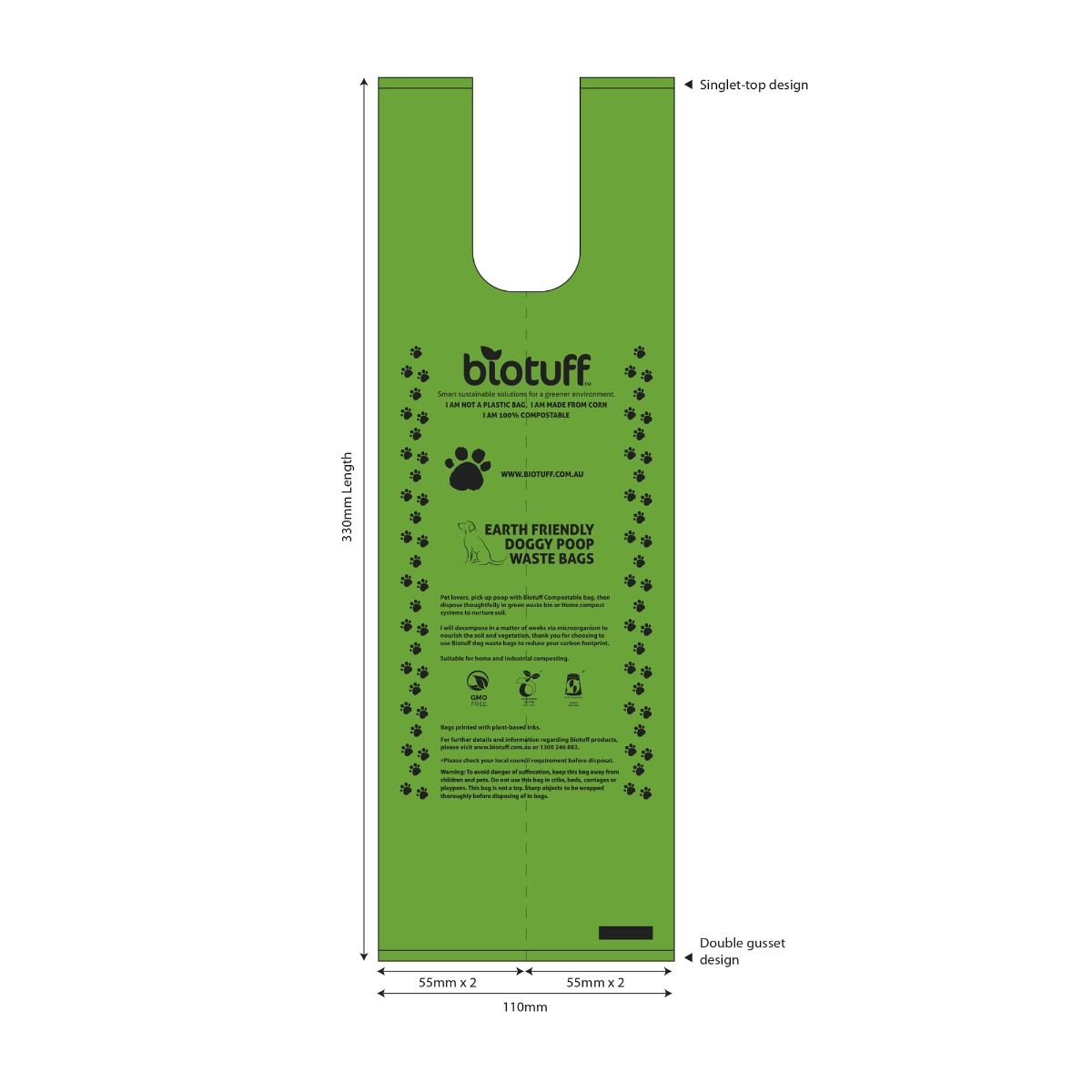 Product Details
Shipping & Delivery
Being an Eco-Conscious Dog Owner: Embracing Environmental Practices
Sustainability and eco-consciousness have entered the pet realm with biodegradable and compostable dog waste bags. By opting for GMO-free, renewable, plant-based compostable material, you actively contribute to reducing global warming and diverting traditional plastic waste from landfills. The Biotuff Dog Waste Bag Refill (4 Pack) Carton are certified to international standards for biodegradability and compostability, including Australian Standards AS4736 BPI and AS5810 Home compost, Europe EN13432, USA ASTM D6400, and Japan Green Pla.
Biotuff compostable dog waste bags have gained recognition from local councils, retailers, and adoring pet owners. They are practical and reliable waste management solutions. By choosing Biotuff Dog Waste Bags, you are actively choosing a greener brighter future.
In addition to their eco-friendly composition, Biotuff compostable bags offer impressive product details. Each bag measures 30 cm x 22 cm, providing ample space for waste disposal. A roll contains 15 bags, ensuring you have an adequate supply. With 4 rolls in a pack, you get 60 bags. A carton contains 160 rolls for larger quantities, giving you a total of 2,400 bags per carton. This allows you to stock up and reduce the need for frequent purchases while minimising waste in the process.
Incorporating Biotuff compostable dog waste bags into your dog care routine aligns your actions with your commitment to being an eco-warrior at your local dog park or beach while actively contributing to a healthier planet. Choose sustainability without compromising on quality and convenience – choose Biotuff compostable dog waste bags for a greener future.
Delivery fees and times vary for different products and are calculated based on the size and weight of the order and its destination. The delivery price for each order will be displayed during the checkout process, prior to payment and order confirmation, and included in the total price of your order. Changes made to the delivery address or delivery time after placing an order may incur additional charges, which we reserve the right to request to add to your original delivery charge. Delivery estimates calculated at Checkout are based on delivery to the front door of the ground floor. Approval for requests to have items delivered past this point be requested prior to an order being placed. This is a request and cannot be guaranteed. The request is based on courier availability and payment of this service.